It's an almost perfect concept, in my view (more on that below) – with one mega shortcoming: no LTE >:( Oppo, this one feature could very easily be a make/break one.
I think people will be looking for devices that will stay ahead of the curve, not behind it, in order to last long and be a good investment.
I think we can still swallow Snapdragon 600 instead of 800, as well as 2GB of RAM instead of 3GB; but it's much harder to do so with no LTE. There's nothing more frustrating than a slow and choppy internet connection.
If there's any, ANY chance that LTE can be included, please do it! And let us know! :)
Ok, now that the mega gripe is over, without repeating too much of all of the other information already out there, here are some things I like most + things that define this device:
The international version of the N1 will allow you to easily flash CyanogenMod, what is arguably the most popular open source custom ROM out there. (A custom ROM is something like a whole new user experience for your Android device, usually built and customised by passionate developers)
Open source custom ROMs are wonderful labours of love that reflect some of the best, most magical things a community of intent can create :)
CyanogenMod just became CyanogenMod Inc. It will be another very interesting experiment to see how much a community based open source project can stay true to its roots and values while working to monetize itself. I'm sure a lot has already been said on the subject.
My two cents: People are always trying to make their fortunes, and it'd be ridiculous to hold that against them. I do have a theory though, that in capitalism (and politics) profiteering (and powermongering) tend to take on a life of their own, and control people, versus vice versa. #TheOneRing.
But of course, we're not here to prejudge any outcomes. I wish CyanogenMod Inc all the best, and hopefully they will navigate the future well. This Oppo partnership is certainly an interesting beginning that we should watch closely.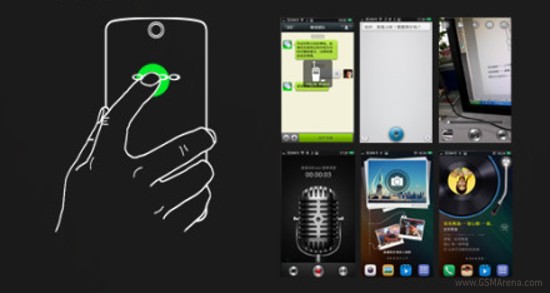 The O-Touch back panel allows you to use touch gestures like swiping, scrolling, tapping, double tapping etc, on the back of your phone. This should allow for awesome increased efficiency and enhanced one handed operations.
I love innovations that make help the user get things done faster and slicker :)
Then there's the O-Click, a little Bluetooth keychain sized device. I think you can set both the phone and/or the device to beep an alarm if they are separated too far from one another. This is a godsend feature for people like me; if I put the O-Click in my wallet, then I can avoid the problem of leaving my phone or wallet at home (unless of course I am blur enough to leave behind both) – two all too common extreme inconveniences.
The O-Click can also be used as a remote shutter, to operate the phone's camera from afar.
Said camera is of course the most unique, innovative and highlighted feature of the Oppo N1. This thing swivels! Therefore, you get the same camera taking front facing shots as you do from the back, and the other 206 degrees should make for a whole new world of how you use your camera to capture images.
I'll have to learn more to understand it all correctly, but if having an aperture of f/2.0 will mean similar kinds of depth of field shots as you can get on a DSLR, that'd be amazing.
That's most of what's been advertised so far. There are photos of the N1 with droplets of water on the device, so I'm assuming that means there will be at least some water resistance.
There are many things you can change on a phone, with custom software and third party devices. The screen and screen size are not among them, so choose wisely!
The 5.9 inch screen on the N1 is probably near my personal sweet spot of screen real estate and manouverability. It sports a 1920 x 1080 display with 377 ppi, which sounds about up there with the competition. It's LCD, not AMOLED, which may be unfortunate for those of us looking for Moto X style Active Notifications.
Powering the massive screen will be the massive 3,610 mAh battery, which is way above par for the course currently, so that's something to look forward to.
That's about it! To top it off, here's Engadget's hands on video (falling snow gathers on icons! haha) :
What I've been able to gather on the web says October availability for China (with pricing around USD 570 for 16GB model, uncertain for 32GB), and December (aargh, so long?!) for international markets.
So, Oppo, once again: LTE, PLEASEEEEEE! Or at least a LTE version. Really a deal-maker.
Also, to be shameless, if you need a language translator for Bahasa Malaysia, an ambassador, or some sort of commercial retail partner, please feel free to let us know! :)